Boyner-Sultan Retail Enterprises LLC
P.O. Box 10213, Dubai, UAE
Tel: +971-(0)4-295 7750
Fax: +971-(0)4-295 7751
Boyner-Sultan Retail Enterprises LLC
Boyner-Sultan Retail Enterprises is a Joint-Venture between Boyner Holding, the largest non-food retailer in Turkey, and the Sultan Group.
This Joint Venture is primarily to carry out the retail sales and distribution of Boyner Holding Major Brands in the Middle East.
It has started with the distribution of the T-box brand.
T-box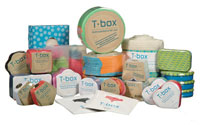 T-box products are fashion items and accessories which are packaged in a unique way, shrunk, and compressed so they can fit in the palm of the hand.
They are fun, humorous, trendy, exciting, and can be sold everywhere. They are sold in Malls, in kiosks, on carts, at Major fashion retail stores, in Hotels, on the beach, in parks, at Airports etc… There is a new T-box product coming out every 2 to 3 weeks, so there is always something new to discover...
Additional fashion retail brands are in the process of being added to the Sultan Group Retail Division.