Real Estate Division Management Team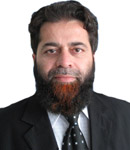 Mohammad Faizan
General Manager
Mohammad Faizan is a real estate industry veteran with 15 years experience in the senior corporate management. Prior to joining Sultan Group Investments L.L.C, Faizan was General Manager of Gulf Oasis Realty, a division of Bin Zayed Group based in Dubai.
He holds degree in Economics, Statistics and Linguistics and various other courses in Business Administration, Business Process Management, Account Management and Customer Service Excellence. Apart from this, he holds Diploma in the Facilities & Operations Management from the Property Council of Australia.
Faizan is a result oriented Business Executive having entrepreneurial approach towards achieving business objectives. He has a vision to generate and conceptualize innovative business ideas, marketing strategies and plans, together with a drive to translate the same into profitable business ventures. He has high enthusiasm and drive, and strong ability to work autonomously without loosing sight of team's objective
.